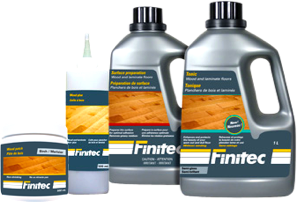 Finitec products for a successful restoration!

Finitec products, for a successful and professional restoration! Your floors need to be restored? It's time to give them another life. Discover our wide range of harwood, laminate, bamboo and cork flooring restoration products. Finitec products give your floors a radiant luster and protection for several years.
Odorless And Nontoxic

Finitec products are safe for your health and the environment. No need to leave the premises during the application. They are low VOC. (Volatile Organic Compounds are atmospheric pollutants that deteriorate air quality.)

Quick And Easy Application

Finitec wood floor products are easy to apply with an impressive drying time of 2 to 3 hours. Tools are easily cleaned with water. Once they are fully cured, they are easy to clean and maintain.